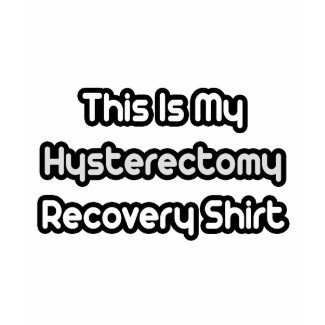 My Hysterectomy Recovery Shirt
by
Hysterectomy_Shirts
There is no way to put a happy face on any type of surgery. Going in for a hysterectomy can be made more comfortable if all your questions are answered by a skilled Houston OBGYN, but you will naturally still have some worry about how you will get through the recovery phase. The good news is you can do some things to get on your feet faster and with as little discomfort as possible.
First, don't fight the doctor's orders when they say you should take it easy and rest while in the hospital. You will likely stay at least a day, possibly two, after having your surgery. Use this time to rest up and get as much energy as possible. You want to get up and back to life, but resist that urge and take it easy. Your body will heal faster with proper rest right after surgery.
Second, don't do a lot of bending, twisting, walking stairs, or lifting for at least six weeks. Even if you feel like a new woman after a couple weeks, do not let yourself start lifting heavy weights and doing anything to the extreme. Take it easy so your body heals over the long term.
Third, have help at home. Don't be afraid to ask for this help before you even go in for the surgery. Recovery depends on it.
A professional Houston OBGYN, Dr. Lisa Otey, is now available for private consultation. Visit her website today.